As time has passed without the "Storm", followers of Q on message boards like reddit, seemed to grow anxious. Q was always alluding to something big right around the corner, but Hillary Clinton and co. were walking free!
In late June Q stated that July would be the month that the world discovered the Truth!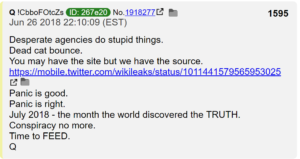 As the month came to a close, there were no arrests or news concerning members of the 'cabal'. So on July 31st Q posted a picture of a partial Donald Trump signature with the hashtag 1776.
This is Donald confirming Q is on the inside!
However this would have to be a completely disappointing outcome for followers of Q. Many have examined this photo and said that the #1776 was actually photoshopped. However the bigger takeaway is that Q failed to deliver anything of note in the month where the world was going to discover the truth.